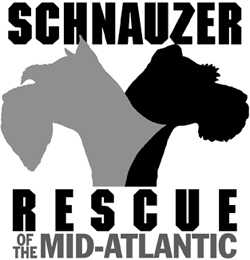 HOW TO ADOPT
Thanks for your interest in adopting a rescue Schnauzer. Before you can be considered to adopt any Schnauzer, you must first apply online. Click here for the adoption application:
We list all available Schnauzers with photos and descriptions at www.schnauzer.petfinder.com and here on our website: Available Schnauzers
If you see a Schnauzer you are interested in adopting you can email the person listed.
Successful adopters take an active part in the process by letting us know which dog(s) they are interested in adopting (email is the fastest way to reach us). We are all volunteers (who work full time and have our own family and dogs to care for) so our adoption process does not always move as fast as our adopters (or we) would like.
We are not a shelter and do not have a central facility. Dogs are kept in foster homes located throughout MD, VA, DC, DE and PA so we can evaluate their personality and find the best home for each Schnauzer. Visitations are therefore not possible. We do meeting/adoptions. Once we have approved your application as a possible match for a particular Schnauzer, we will set up a time and location for you to meet the dog and if everything goes well when you meet, we go forward with the adoption. All background checks and home checks will be done before the meeting.
To email us, send to the person listed on the description or send to info@schnauzerrescue.net
Thanks for your patience with our process!
Apply on Line | Foster Home Info. | General Schnauzer Rescue Info.
Available Dogs | Volunteer | Contact Us | Rescue Links |
Humane Education | Happy Endings| Donate
Schnauzer Gallery | Great Schnauzer Rescue Stories | Happy Endings 3
Happy Endings in 2007 | Happy Endings in 2008 | Happy Endings in 2009 | Happy Endings in 2010 | In Memory |
OUR MAILING ADDRESS: 
P.O. Box 5034
Laurel, MD 20725-5034
PHONE OR FAX:  (301) 776-7370
E-MAIL info@schnauzerrescue.net
**Schnauzer Rescue of the Mid-Atlantic, Inc. is a non-profit organization under Internal Revenue Code section 501 (c)(3)**