Join us in our goal to make all pets cherished!
Animals are not disposable! Adding a dog to your family is a life-long commitment, which can be over 10 years. Where will you be in 10 years? Will you be busy starting a new family? Will the kids who are begging for a pet now be off to college? Will you be looking into an assisted living facility that doesn't allow pets? Make sure you take your potential life changes into account before making a commitment to a new family member. An older dog often has a difficult time making the change to a new home.
Before adopting
Educate yourself through reading books about pet care.
Consider your child's age and your family's activity level when selecting a new pet.
Agree to keep your dog leashed or in a secure area at all times.
Purchase an id tag and consider having your pet microchipped.
Make a commitment to regular vet care and to spay or neuter your pets.

Did you know...One of the biggest health problems among children is dog bites? According to the Humane Society of the United States, an estimated five million people are bitten by dogs each year - and 60% are kids. Teach your kids to respect a dog's space - and make sure your dog is well trained too!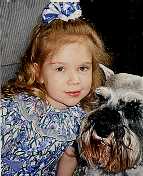 Follow These Rules for Approaching a New Dog
*Always ask the owner first - don't approach a dog unless the owner gives permission. *Don't run to a dog. It is always best to move slowly and let the dog come to you. *Avoid strange dogs or ask an adult to help. *Respect the dog's space - if a dog is backing up, he's telling you he doesn't want you to approach. *Don't run from strange dogs - dogs often love to chase. Move slowly and deliberately away from them. *Don't stare at a dog - this can be seen as a challenge. *Don't bend or step over a dog. *Don't pet a dog on the top of the head and don't hug him. Allow the dog to sniff the back of your hand first, then pet it gently under the chin or chest.
Just remember, ANY dog can bite - but with a little extra care, many dog bites can be avoided.
Humane Education begins at home - teach by example! When parents exhibit kind and respectful behavior to pets, children will follow. Take advantage of daily pet care to influence your children's attitudes. For example, cleaning up after a pet is a teachable moment. Children can begin to parallel people and pet relationships through an understanding that both take a strong commitment, even during the "less than desirable" moments.

Mahatma Gandhi said that "the greatness of a nation and its moral progress can be judged by the way its animals are treated." Animals feel pain and fear like we do, but they are often helpless victims because they can't say what happened to them. If we wish to create a humane society, we must stop cruelty against those who are most vulnerable. If you know of anyone who is not treating an animal nicely, tell someone! Your parents, teachers, and local police officers can help.
Learn more about pet store puppies and where they come from.
Click on any of these topics for more details

Apply on Line | Foster Home Info. | General Rescue Info.
Available Dogs | Volunteer | Contact Us | Rescue Links |
Humane Education | Happy Endings
Schnauzer Gallery | Great Rescue Stories

OUR MAILING ADDRESS:  P.O. Box 5034 Laurel, MD 20725-5034
PHONE OR FAX:  (301) 776-7370
E-MAIL info@schnauzerrescue.net
**Schnauzer Rescue of the Mid-Atlantic, Inc. is a non-profit organization under Internal Revenue Code section 501 (c)(3)**
The official registration and financial information of Schnauzer Rescue of the Mid-Atlantic, Inc. may be obtained from the Pennsylvania Department of State by calling toll free, within Pennsylvania, 1 800 732-0999. Registration does not imply endorsement.


©2004