This is a tale of a girl, a dog, and the amazing transformative healing power of love, rescue and running.
Six years ago my husband and I left our family and friends back in Texas to move to Maryland. The transition was emotional and exciting for the new opportunities that lay ahead in a new city, meeting new people and career advancement for my husband. I had lived away from home before, but somehow this was different. Somehow, this seemed more difficult. Having been a life-long Texan I found the change in climate taking a bigger toll than I had imagined, and being apart from our families and my 84 year old mother left me feeling sad and guilt ridden. The only physical connections I had to home were my husband and my 10 year old miniature Schnauzer, Maxie.
Once we settled in, I found work as a nurse consultant. The best part of my job was it allowed me to work from home, but the worst part was I traveled quite frequently. A year and a half into our new life, my beloved miniature Schnauzer, Maxie (now 12) took ill while I was away for work and when I arrived home, I realized she was in so much pain that it was not fair to allow her suffering to continue. My husband and I made the most difficult decision of our lives, and she died peacefully in my arms. Before she passed, I continuously told her how much I loved her and let her know what a blessing she had been to me for all those years. There are those who will understand what this loss is like, and those who will not. For me, this was my "baby", my only child. Maxie had helped me through my first marriage, subsequent divorce, bad relationships, reuniting with my high school sweetheart, and ultimately moving across the country. Her death turned out to be the proverbial "straw that broke the camels back" and I spiraled into a deep clinical depression.
As a nurse, I always thought I would recognize the symptoms of depression, but sadly I did not. It finally took a co-worker and dear friend to help me see what was happening and he advised me to seek some professional help. Fortunately, I found some excellent local resources and began attending counseling and taking prescribed medications.
Three months after Maxie's death, a friend mentioned that every breed of dog has a rescue organization. After some additional research she found the Schnauzer Rescue of the Mid-Atlantic, and as luck would have it, they were right in my community. We looked on-line for a few weeks and then we spotted Aaron. Aaron was a five year old Schnauzer who was in a holding pattern since he was being treated for heartworms. If he survived the treatment, we were told he would go up for adoption but might have significant heart problems for the rest of his life. We knew he was the dog for us, so we waited another three months before he was well enough to be released for adoption. Our application was accepted and we were chosen to be his new family.
The first few weeks at home were a challenge, but after some obedience training and a clean bill of health from our vet (no apparent heart issues), we began our daily walks. At first I was nervous as I didn't want to create any extra exertion on his heart, but he would pull on his leash as if wanting to run. So, one day I ran with him for half a block. I was completely winded and he was ecstatic! I had NEVER run in my life as an adult however we tried it again and again, getting just a little further each time. It was still exhausting for me but he was so happy and the exercise helped calm him down. Ultimately, I was hooked when we completed our first non-stop mile!
That was five years ago. Since then, we run most days. Not only did I lose some weight and lower my cholesterol, but more importantly I was able to get off the medications I was taking for my depression. Running with Aaron opened up a new life for me, and since starting our runs I have completed some 5K races, a half-marathon, and this week I completed the full Marine Corps Marathon in just under five hours (4:53:24 officially). Not bad for a 45 year old novice runner!
To this day, I am so very grateful for the love and companionship Aaron has given me. So much so, I continually ask myself, who truly rescued who!?
Ruth 10-27-2009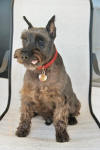 In Memory of Rocky Submitted by rescuer Linda S., Laurel, MD
Rocky came to rescue from a shelter. He had been hit by a car and had a badly broken leg. He first went to Scotty rescue just because he was black! But when they saw he was kind of tall for a Scotty, he came to Schnauzer Rescue. He was neutered and had a dental, which resulted in most of his teeth being removed. So his little tongue would sometimes just hang out of the side of his mouth. He was adorable! He also tested positive for heartworm. Because of his weak condition, he had to receive his heartworm treatment one month, then the rest a month later. Rocky spent the summer with me in foster care, for three whole months! He was a comical guy and loved everyone. His adopters Debbie & Wayne gave him the greatest home he could ever ask for. He had a buddy named Crosby, a fenced yard, and someone home most of the time. They loved him so much. They gave Rocky whatever he needed - and mostly what Rocky needed was their undying love. Rocky was very special to me - Debbie and Wayne are also special. Rocky died in Debbie's arms, the safest place he had ever known.
Read about the Rainbow Bridge
In Memory of Buddy
Bud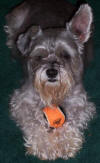 dy could be any dog in any local shelter. He was found as a stray and SRM took him in and placed him in a foster home. Buddy was a cute little guy, estimated to be at least 10 years old or more. He was updated on his shots and we discovered that he had a heart murmur. He took some meds for it and was doing well for quite awhile. Despite his cute little stand up ear, the noises and woo- woo's he gave his foster homes, no one was interested in adopting Buddy. Unlike the dogs in the shelters, Buddy had the company of foster brothers and sisters, foster parents that loved him, snuggled with him and gave him treats and other good things Schnauzers enjoy. But like the shelter dogs, Buddy didn't have a real home with real parents. Buddy went into congestive heart failure and he crossed over the Rainbow Bridge with his foster mom holding him and loving him the way foster moms do. He is now finally home.
Baxter's New Adventures

Baxter was adopted as a 2 year old dark salt and pepper mini 2004. He was the third and final addition to our pack. His two brothers are terrier mixes who compete in various sports including obedience, Rally-O, and of course earthdog activities. While Baxter's mommie emphasized learning ground rules at home and obedience training, she wanted to allow him to explore his terrier tendencies through earthdog activities. The sport of earthdog is not the same as Jack Russell Terrier races as many of us have seen on TV with little dogs hurdling jumps after a decoy pulled ahead of them. In fact, earthdog is done mostly in 9x9 inch underground tunnels not visible to spectators. So although not real exciting to observers, it can be a ton of fun for those terriers or dachshunds who enjoy using their noses and going after caged, protected quarry (rats). This activity simulates what our dogs naturally do which is go to ground after prey. The AKC accepted mini's to participate in their earthdog trials, and the AWTA (American Working Terrier Assoc) allows mini's to compete in their den trials as long as they can fit in the tunnel. The first step to starting work is encouraging your mini at home to willingly go into dark 9x9 inch straight tunnels about 5 ft long to start. Never force your dog into the tunnel, rather entice them with praise, or voice . Some dogs need the actual rat that they see to get them to go through the tunnel. If you are just starting out, and don't wish to dig up your yard, build wooden tunnels, make your own rat scent, and own and maintain a rat for practice, you might seek out a friend at a local training club who is into this an may let you drop by for a practice, or attend earthdog practice sessions such as those offered at Bella Vista training center in Lewisberry, PA, or just jump in and enter an AKC Earthdog trial in Introduction to Quarry (to enter don't forget you'll need an AKC registration number OR an AKC ILP number which most rescues can obtain) where the judge will walk you through step by step and often do some teaching. No prior experience is needed for IQ. You learn a lot by watching others and chatting with more experienced folks. You release your dog 10 feet away from the entrance of the 10 foot tunnel which has one 90 degree turn. Your dog has to go into the tunnel, you may use mild encouragement but not force him in, he has 2 minutes once he enters to get to the caged protected rat at the end to start working, this is barking, lunging, whining, scratching or chewing. You need 30 seconds of continuous work, then you pass ! Many starting dogs do not catch on at first and may take many tries before their instincts kick in so don't be disappointed if at first you don't succeed. If your dog doesn't have the "killer" instinct to dive into a dark tunnel after a rat's scent and work the quarry like crazy, it's still ok, it is a fine way to discover something new with your dog and meet other enthusiasts. And you'll go home having shared a nice day with your best buddy. Miniature schnauzers are uncommon at these trials, some believe it's because many mini's lack the true instinct. But in Baxter's case, he seems very motivated, and is progressing. Thus far we've participated in several practices, and 2 earthdog trials in IQ. Each time he's made improvements and seems to enjoy it alot. IQ is not a titling class in earthdog trials nor is it required to proceed further, but most folks think it's a great way to test the water and to get some good instruction from the helpful judges. Junior earthdog(JE) is the first title you can earn, it takes 2 passing performances in this level consisting of 30 feet of tunnel, three 90 degree turns, 30 seconds to get to the quarry, and 60 seconds of work to pass. Senior earthdog (SE) is harder and Master earthdog (ME) is the highest and toughest title to earn . I've heard of only about 2 mini's who have ever earned the highest earthdog title, Master Earthdog. The AWTA offers Den trials (need to be an AWTA member to enter) as near as NJ which is very similar to AKC earthdog events. The rules are similar, but they recognize focused staring as a method of work in addition to the ones already mentioned. Their Novice course is like AKC's IQ level, and their Open course is equivalent AKC's JE tunnel. Please feel free to check out the following links to learn more about this fun and exciting activity. We want to have fun & show everyone just how good our Mini's are !
Keep on training,
Diana and Baxter
Baxter looking at the tunnel Owner releases him Baxter enters the tunnel At the end of the tunnel Work is complete!
Megan's Story Submitted by Aurora F. Chevy Chase, MD

Everybody loves Megan, and she loves everybody back. She came to us with floppy ears, a long tail and a teddy bear from her foster mother. Buddy, our other rescue mini schnauzer, loves Meggie and her bear. She does not care much about toys until he wants to play with them. Then she rushes over and wants to be the center of attention. Buddy, the gentleman, lets her have her way. He could be either an oversized mini or undersized standard. In either case, he is much bigger than Meggie who is the tiniest mini we have had and the most fearless.
We were living in Manhattan when got Buddy. He is a great city dog and loves walking miles with us. We have always had a pair of schnauzers. The cycle is hard to break because when one dies the other is so sad. The set, Duffy and Cookie, that preceded Buddy started with us in Maryland. Duffy, curious about everything, immediately took to city living and all the sights. Cookie put on a brave front but was never keen on it. When Duffy died, she became phobic, afraid to go outside without him. Luckily, we quickly found Buddy in a New Jersey shelter. We bought Cookie along to check him out. It was love at first sight for all of us and the two became fast friends.
So, when Cookie died, I asked the rescue group for a dog who could cope with city noise and traffic. Buddy usually walks by our side. Meggie always leads the way around Lower Manhattan through Little Italy and Chinatown and up to our butcher in Greenwich Village. She patrols the streets on high alert for squirrels, pigeons and rollerbladers. She draws quite a bit of attention, walking on her hind legs to see better what is happening. At times she has pointed like a hunting dog—paw lifted, tail horizontal—at a possible catch.
She loves to shop. Manhattan shop keepers encourage dogs and offer them treats, knowing with the dog comes a human potential customer. Both Meggie and Buddy are well behaved. We are not trainers and have found that the miniature schnauzers we have had seem to instinctively know what is expected of them and what we won't tolerate.
Meggie loves to talk, too, and converses with my husband when he gets home from work. We have never had a dog that can make the range of sounds Meggie does. Our dogs have all had their unique personality. But Meggie acts more like a two year child than a dog. We often wonder about her past. We know she ended up in shelters twice but can't imagine anyone giving her up. Whatever hard knocks she might have gotten, her perpetually sunny disposition has stayed intact. Meggie is very special—a bundle of happiness that came into our lives.
Fritz's Story
Submitted by Beth

I rescued a schnauzer last year that was 10 yrs. old at the time who had a very similar story to Tibby. I am a vet tech. We boarded this dog a lot. One day his mom said she couldn't keep him because she lived on the second floor and he would almost knock her down the stairs. When I heard the whole story it was sad. Two years before I got him, his dad died in his sleep. He was very sick and Fritz stayed with him the whole time. He was there when he passed away. He wouldn't let anyone near his dad so it was very hard for the paramedics to remove the body. He was so sad then his mom could no longer keep him. She was going to put him to sleep because he was older and she was afraid someone would hurt him. Everyone at work told her I would take him. So she called and I did take him. Now he is so attached to me, he has separation anxiety! He barks when I leave but now he has learned I will come home, so he only barks a little. It is so sad for the older ones who have to go through all that.
He is the best dog and he is so loving. It took him a while to adjust. But he did and I wouldn't take anything for him. Please consider adopting an older rescue!

Teddy's Story (formerly Monty) Submitted by Carol and Ray R., Haymarket, VA
We adopted Monty on May 24, 2003. He was a sad sight -- all skin and bones and most of his fur shaved off. His vet records indicated that he had been picked up on the street after being hit by a car and he had vomited up two balls of wire at the vet's. We changed his name to Teddy (Teddy Bear is his nickname) which seemed to be fine with him.

After almost a month with us, Teddy has gained three pounds and his furnishings and beard are coming in very nicely. He doesn't mind being brushed and bathed at all. He enjoys playing with our other rescue dog, a 40 lb. three legged hound dog named Peggy Sue. Teddy has very nice house manners and sleeps contentedly between us at night. He is learning the joys of chewy toys and Peggy Sue is trying to teach him tug of war.

The only problem we've had with him is when we walk him outside! He started out by barking continually from the time the door opened to the time we went back in the house, but has already improved. He's now at the point where he only barks when he sees another animal or human. He does enjoy his walks and since I don't think he was walked in his original home, everything is brand new to him. We also had our vet microchip him, so hopefully if he ever does escape again, he'll be scanned and returned to us.

He is such a cuddler and loves his people. Teddy is the epitome of the saying, "if you don't want a dog in your face all the time, don't get a schnauzer!" We love him dearly and thank Schnauzer Rescue of the Mid-Atlantic for saving his life.

Teeny's Story Submitted by Karen K., Springfield, VA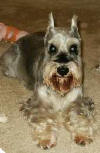 Steve and I had decided we were finally ready to adopt a dog after years of having exotics as pets. Our schedules had at last become dog friendly. I was able to come home at lunch on the days we were both gone for a period over five hours, and two out of every three weeks our schedules overlapped even less. It was time for Merlynne, a yellow-crowned amazon parrot; Sage and Hazel, rescue rabbits from HRS; and Rover, a chinese coin turtle to have a canine sibling.
We initially started looking at multiple breed rescues in our area. After surfing the web and visiting a few adoption days, we decided to talk to my sister who volunteers for Lab Rescue. We attempted to introduce a couple of likely candidates to the other animals with limited success. The rabbits were very intimidated by the large dogs even though they have their own room in the house. We decided to look at smaller dogs.
My father suggested seeing if there was a miniature schnauzer rescue group in the area. Our family had had a miniature schnauzer named "Pooh" while I was growing up. She was a runt from a breeder and a true sweetheart. We had her for thirteen years. Upon searching the web we discovered a new rescue group called Schnauzer Rescue of the Mid-Atlantic. I began living on the website, waiting for the first dog to appear. We sent in our application and continued to check the website multiple times a day.
Taz, the first rescue for SRM, was adopted quickly. I fell in love with a tiny little girl that appeared on the website with the amusing name, Teeny Turner. She reminded me a little of my "Pooh" due to her petite size. Steve and I asked to be considered as her new family.
Donna, with SRM, wrote back to let us know there were some possible health issues with Teeny. She had been horribly neglected. She had infections of the ears, eyes, skin and urinary tract. She had raw feet. She had a bladder full of stones. She was underweight. Donna immediately started trying to get her to gain weight by cooking her special meals. The vet put her on antibiotics and she was spayed and had her bladder stones removed. During her surgery, there was concern that she was quite jaundiced on the inside. Some of her lab results were suspicious, too. Perhaps her liver was involved.
Steve and I discussed the possibilities and decided we still wanted to make Teeny a part of our family. We asked Donna to please keep us in the running as her adopters. To our great surprise and pleasure, we were chosen by the folks at SRM to take Teeny home.
My sister and I drove up to get Teeny one weekend. We came home with Teeny, her toys, her sweater, her special food, her antibiotics, and some cooked chicken, all from her foster mom, Donna and other members of SRM. That Monday, I took Teeny to our vet to have her checked out. We ended up having to keep Teeny on antibiotics for eight more weeks to rid her of the remnants of her various infections. Our vet told us to put Teeny on a high quality food once we were finished with the special food she came to us with. We were asked to bring her in to check her urine every few weeks.
To our and our vet's amazement, one of Teeny's early urine checks did not show any of the two types of crystals that formed her earlier bladder stones. We all kept our fingers crossed and waited for the next test. It showed a few crystals but was not a sterile sample. The next sterile sample showed no crystals. We now only have to check Teeny's urine two to three times a year. Our vet says to keep doing whatever we are doing. She is still baffled by Teeny's turnaround considering her early lab values.
Teeny is doing wonderfully! Her coat shines. Her teeth sparkle. She weighs the proper weight at fifteen pounds. She is ornery as ever. And we love our healthy girl dearly.
In Memory of Accord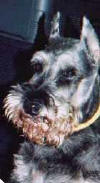 Submitted By the Editor
Sometimes rescuing a dog can be a subtle thing – a gentle touch, a soothing tone, or an approving voice – "good boy!" But sometimes the needs of a rescue dog strike you like a blow to the stomach. Such was the feeling that a fellow rescuer and I experienced when we first laid eyes on a dog with the unusual name of "Accord."
Accord was a former show dog whose owner had Alzheimer's disease. But as the owner's disease progressed, Accord's health was failing too. When we first saw Accord, our hearts sank – he was in terrible condition. His skin was scaly and his hair was coming out in clumps. He had severe dental disease and was drooling. He appeared bloated and grossly overweight. He could barely walk and had trouble even standing up. The first time I picked up Accord, he gripped his paws tightly around my neck, as if to say, "Please don't let me go." At that moment, I promised him I would not let him down. On the way home, I was so afraid for his health that I brought him right to the vet's office.
While we waited for test results, Accord became a part of our family. He could barely walk, but he was one of the bravest dogs I've ever met. When my two young schnauzers would run after toys, Accord would do his Frankenstein-like walk - tripping over the edge of rug, stumbling over shoes in the way - but he would still try to get the toy and bring it back. He loved a purple cat toy we called the "Purple People Eater." At night, he would lay on a sheet on the floor next to the bed (he was too weak to be up on the bed - we were afraid he'd roll off!), and he'd leave a trail of skin and hair behind. In the morning, we'd pick him up and put him on the bed with our two schnauzer kids. He'd stagger up to our faces and give us the sweetest little kisses - his breath was so bad it took all of our being not to gag! We loved our "Cordy." He was a brave hearted dog.
Accord was diagnosed with a severe thyroid deficiency and was given medication to correct it. The results were almost miraculous! Each day, Accord gained strength and muscle tone. His skin cleared up and a beautiful coat started to grow in. One of the unexpected side effects of his new hormone medication was that Accord started having "amorous affection" for just about everything in sight - our 2 year old female schnauzer, a stuffed toy, us - basically anything that brought him joy! Soon he was well enough for another visit to the vet for neutering and a dental. He lost most of his teeth, but he felt so much better. As foster parents, we knew it was time for Accord to go his permanent home. Our hearts ached - how would we ever find a home special enough for this special boy?
Enter the Orsini family. Parents Joe and Donna and daughter Missy had just lost their beloved mini Winston to a sudden onset of severe kidney disease. Winston was only 6 when he died, and his family (including his 2 yr. old schnauzer sibling Pepper) was devastated. One night, while Joe was surfing the internet, he came across Accord and the other schnauzers listed on Petfinders. He knew right away that adopting a rescue schnauzer would be a wonderful way to honor Winston's memory. Joe didn't know how to choose one dog over another – all of their stories were heartbreaking! After talking to Joe, we knew the Orsini's were the loving family that Accord needed. They decided to adopt Accord, sight unseen, and make him a part of their family.
The Orsini's were immediately taken with Accord. "No matter what "Cordy" is doing," confided Joe, "he carries himself with an aura of aristocracy. At times, it almost looks comical as Pepper acts like the lovable tramp- the prince and the tramp!" Above all, the Orsini's are the key to this rescue success story. The love and compassion that the Orsini's have shown by making a needy dog like Accord a part of their family is what rescue is all about. What would they change about Accord? "Not a thing!" Joe insists, but then adds, "Well, I would like to take away all of his bad experiences. Otherwise, he's perfect!" Thank you to Joe, Donna, Missy and Steve for making Accord's last few years the happiest of his life.
Editor's note: Accord was rescued by New Jersey Schnauzer Rescue Network, Inc.
Sydney's Story Submitted By Christy M., Virginia Beach, VA

I was doing my usual rounds through the local shelter when I spotted a little gray mass huddled in the back of a dingy cage. It resembled a big ball of dust that had been gathering in a corner for years. I anxiously approached the cage. Looking at the dog's information card, I read that the little gray bundle was a female schnauzer! My heart started racing. I scurried over to the shelter volunteer. "Please, please put my name on this little girl," I exclaimed. I led the shelter volunteer to the schnauzer's cage, where he took the information card out and wrote my name on it. With all this "action" going on around her, the little schnauzer stirred. She stood up on her skinny legs and stretccchhheed. She turned around and looked at me. But she really couldn't see me with the milky glaze hindering her eyesight. "Would you like to pet her," the volunteer asked. I nodded. The volunteer opened the cage door. The little gray doggie stood there, frozen. She looked like a koala bear with her wiry salt and pepper fur, fluffy white eyebrows, and short white beard. I extended my hand into the cage so she could sniff me. After she did, I softly pet her head. She didn't seem to mind, so I kept petting her. I could feel her ribs, and her back seemed slightly curved. Her hair was long and matted; I couldn't see if she even had a tail. She started leaning towards my hand, desperate for a human's touch. I slowly and cautiously picked her up and put her in my arms. She remained calm and quiet. When the other dogs in the pound barked, she would slightly shiver, as if she was afraid they'd come get her. I kept petting her, telling her I was going to get her out of there. I don't think I'd met a sweeter, calmer dog in my life. "Be here on her release day at 4pm sharp if you want to adopt her," said the volunteer. "I definitely will be," I replied. I kissed the tiny schnauzer on her head. The volunteer put her back in the cage. I had gray hairs all over my black clothes. The schnauzer had left her mark on me. Later that week I adopted her. Since I thought she resembled a koala bear, I wanted to name her something Australian. So I named her Sydney, after the Australian city (and one of the characters from my favorite TV show). Later in the week, I also took her for a much-needed grooming. When the vet brought her out, I almost cried. Sydney was so beautiful! She finally looked like a miniature schnauzer! She went from a shivering dustball to a poised and beautiful girl! Nowadays Sydney and my other schnauzer Shakey play all the time. No matter how old she is, how well she can or cannot see, Sydney will live out the rest of her days in a loving home. Every dog should have that privilege. ©2003
Jordan's Story Submitted by Bobbie and Kevin, York, PA

Our decision to adopt a dog began many months before we found Jordan. We combed many of the shelters in the area looking for the perfect dog. We finally decided to go online and check the Schnauzer rescue as Kevin's mom had done when she adopted her dog, Jazz. We went through the list of available dogs many times. We could never agree on just the right dog for us. Then we read Jordan's story about being diabetic and saw that he was an adult schnauzer. We knew that meant that he would have many medical needs and that he may not be with us for a long time. We investigated what having a diabetic dog entailed by searching on the internet and talking to our vet. We talked with Donna from Schnauzer rescue and she gave us more information. At this point we knew that Jordan needed us. We both felt we had enough love and kindness to give him a wonderful home for as long as he has left to live. We then were able to meet Jordan at Donna's home where he was being fostered. We immediately fell in love with him and our decision was made. If Jordan would have us as parents, we wanted to bring him into our home. A few weeks later once his insulin was properly regulated Jordan came to live with us. He requires pretty structured care with insulin shots twice daily and special dietary needs. However, the incredible difference he has made in our lives is well worth this small sacrifice. We feel very certain that he is happy and content with us and we are thrilled to have him. Our decision to adopt him was one of our greatest decisions to date. We fondly call him King Jordan as he is the King of our house! Thank you Schnauzer Rescue and Donna for the perfect addition to our family.
Lucy's Story Submitted by Shayne Linderman-Dettrey Lewisberry, PA
My husband and I had discussed getting another Schnauzer. We thought that
Emmie, our five year old Schnauzer, would like to have a playmate. One day
my husband and I were at Petsmart. PAWS just happened to have a Schnauzer
mix puppy there for adoption. We filled out an application even though the
woman from PAWS said a family had already been approved to adopt this little
one. We were too late for that Schnauzer. About a week later I got a phone
call. PAWS had just rescued some dogs from a puppy mill. One was a two year
old Schnauzer who had recently given birth. My husband and I took Emmie to
Petsmart that Saturday to meet the little Schnauzer. She was scared and
skinny but we knew we had to take her with us. The first two weeks were
rough. I slept on the floor with Lucy. She didn't want to be petted. She
didn't want to play. She didn't want to walk on the grass. We quickly
realized what a sad life Lucy had before she became part of our family. One
year later ( we just celebrated her adoption day on October 6) we can't
imagine our lives without Lucy. I always ask my girls how I got so lucky.
There is nothing better than having Schnauzers.


Sophie's Story Submitted by Carol R., Alexandria, VA

It was late in the evening when I received a frantic call wondering if I could foster a schnauzer. She had just been spayed and all of her teeth had been pulled because they were rotten. I was told she had escaped from a puppy mill and was around 10 or 12 years old. I remember driving to the vet's office to pick her up, not knowing what I would find. When I got there, I was horrified to see a darling little angel so frail clinging to life. I had tears streaming down my face. I did not think Sophie would make it through the night. I wrapped her up in a blanket and held her tight the entire way home. At first, Sophie was only able to take a few steps. Later, a few more. Needless to say, Sophie now runs in the house and outside in her fenced yard. The pain she once had in her eyes and frail body has been replaced with love and her constant desire to please. Sophie is an American girl, a true hero and an inspiration to all other abused and neglected animals. Please adopt and foster. It will change your life.
Click on any of these topics for more details


Apply on Line | Foster Home Info. | General Rescue Info.
Available Dogs | Contact Us | Rescue Links |
Humane Education | Happy Endings
Schnauzer Gallery |
©2004
HOME
OUR MAILING ADDRESS:  P.O. Box 5034 Laurel, MD 20725-5034
PHONE OR FAX:  (301) 776-7370

E-MAIL info@schnauzerrescue.net

**Schnauzer Rescue of the Mid-Atlantic, Inc. is a non-profit organization under Internal Revenue Code section 501 (c)(3)**