IN MEMORY OF
THIS PAGE IS DEDICATED TO ALL THE SCHNAUZERS THAT CAME INTO RESCUE AND NEVER FOUND A FOREVER HOME.

Not all of our rescue Schnauzers make it to new homes. Lexus went to the Rainbow Bridge with her foster mom holding her on January 15, 2011. The Rainbow Bridge
Lexus is a very well behaved 10 year old female Schnauzer with cropped ears and a docked tail. She is spayed and current on her vaccines. Her owner didn't have time for her anymore. If you have time for Lexus, you must first apply, then please contact Linda@schnauzerrescue.net and go to http://www.schnauzer.petfinder.com for more information. To complete an application the Adoption Application
SAD NEWS: Lil Bit did not survive her heartworm treatment and she passed away suddenly with her foster mom holding her on December 28, 2007. She would still be alive if only she had received her monthly heartworm pill.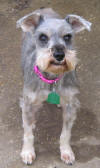 Lil Bit was a tiny 2 year old female Schnauzer who weighed just 10 pounds. She was found tied to a tree and was turned into a shelter. She was very scared. She came into rescue with heartworms and underwent the treatment for heartworms. It's a long and difficult time to rid her of the heartworms. She was hospitalized for three days to receive the heartworm treatment which is an arsenic durative. Lil Bit had to be kept quiet in her crate for 6 weeks while her body absorbed the dead heartworms. It's a very dangerous time since any activity can cause her to die. She was only allowed outside briefly for potty breaks and was not allowed to play with the other dogs. Her foster mom would hold her on her lap and give her lots of love. Lil Bit did not understand why she had to be kept crated and why she could not play with the other dogs. She was still very young and playful. She deserved a much better life than this. All she wanted was to be loved. She was into her third week past her heartworm treatment and still had three weeks to go before she would be cleared for normal activity.
Please give your dog monthly heartworm treatments so your dog does not end up like Lil Bit. Her death was needless since it could have been prevented.

Henry had blood tests just two months ago that were all normal and he seemed quite healthy and energetic so everyone was shocked (including the vet) when he got very sick very quickly and his blood tests had all changed dramatically. He developed severe anemia rather quickly probably from a tumor somewhere that started bleeding. He died with his foster mom holding him. Unfortunately Henry never got to have a real home but he was very much loved by everyone in this rescue. He had quite a personality and we will all miss him.

Henry is a 13 year old neutered male. Everyone says he's too old but he sure doesn't think so! He was dumped at a shelter due to a divorce.

SAD NEWS: Scooter got sick very suddenly and he passed away with his foster mom holding him. Scooter had a pending adoption until he got sick. Thank you, Bonnie, for opening up your heart to Scooter. Life is precious, go hug your Schnauzer.
Scooter is a sweet boy, just a little overweight at 35 pounds. His owner went into a nursing home.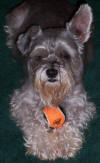 Sad Note: Buddy's heart gave out on him and he crossed the Rainbow Bridge with his foster mom holding him in her arms. Buddy is a cute 10 year old male with a natural tail and natural ears, one that stands up.
CLICK HERE TO DONATE ON-LINE TO OUR VETERINARY FUND
Apply on Line | Foster Home Info. | General Schnauzer Rescue Info.
Available Dogs | On Line Store| Volunteer | Contact Us | Rescue Links |
Humane Education | Happy Endings| Donate
Schnauzer Gallery | Great Schnauzer Rescue Stories |
Happy Endings in 2007| Happy Endings in 2008 | Happy Endings in 2009 | Happy Endings in 2010 |