Welcome to Otto's Story!
We thought we'd have a little fun with a photo essay of Otto's journey from heartworm positive to heartworm free - but please read the information at the end to understand how serious Otto's situation was. We hope Otto will be a reminder to everyone to keep their own dogs on heartworm preventative. Click here to read Otto's complete diary.
Otto was picked up as a stray and taken into rescue in September, 2002. Otto was given the standard testing all rescues receive - including a heartworm test. Otto's came back positive. Being "heartworm positive" means that Otto had been bitten by a mosquito carrying heartworm larvae (most likely from another dog). Once the larvae were in Otto's system they could have been killed off by a preventative such as Heartguard or Interceptor. But poor Otto was not given any preventative. In a few months, the larvae began to grow in his heart.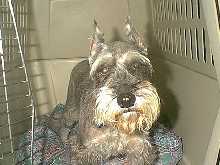 Otto would need to undergo a stressful treatment to kill the growing larvae. He also had some serious infections that needed to cleared up before he could be treated. When Otto finally began his treatment in December 2002, he had to be kept crated and basically inactive for about 6 weeks. He was given several injections to kill the worms in his heart.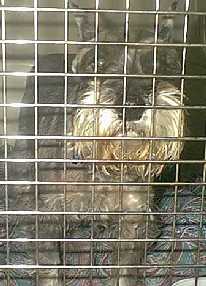 So began Otto's time in the crate. It must have seemed like a prison sentence! We can only imagine how confused and isolated Otto must have felt.
Otto's activity had to be very limited, to avoid releasing the dying heartworms and creating a potentially fatal clot. He had to be carried up and down stairs and could only be slowly walked outside to go to the bathroom.

Then it was back to the crate.
Sometimes we joked that Otto had spent so much time in isolation, he would need sunglasses when he could finally run free outside!
Finally the exciting day came when Otto's treatment was complete. Now it was time to find the perfect home for a sweet dog that had been through so much.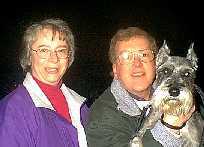 Thankfully, the response to Otto was overwhelming! Otto was quickly adopted into a wonderful, loving home!
UPDATE from his family February 14, 2006
Today is the anniversary of the day we picked up Otto right before the huge snowstorm of Valentine's weekend 2003. We have had three great years with him and are hoping to enjoy him for yet a while longer.
Just as an update, he has some type of tumor growing in his skull which is very noticeable when you pet his head. We have consulted with our vet and mutually decided that we will keep him as happy and comfortable for as long as possible. He is still a loving wonderful companion, although not quite as spunky as he was in the past.
We want to thank you again for the Schnauzer rescue organization. Even if someone rescues an older dog or a dog of unknown age there is nothing in the world like the joy our little guy has brought to us. As you noted when we adopted him, he seemed to prefer men, and Mike and Otto have walked countless miles together. Otto has had a wonderful time trying to keep our yard squirrel free, although as a ground hunter he still has no idea that they disappear UP the tree. It still irritates Otto that the geese swimming in the middle of the pond don't fly away when he barks at them. He forgets sometimes and starts to go in after them, then looks up with that surprised look that says, "Schnauzers DON'T like water!" He is as loyal as can be to his adopted family to the point of being fairly protective, but he grudgingly accepts visitors after we insist that they are okay.
We just wanted to share a little on the day we choose to celebrate his adoption day. He is our BEST Valentine!
Kind regards,
Mike and Jane
Thanks to everyone who has followed Otto's story and contributed to his veterinary care!
Otto was only our first heart worm positive Schnauzer. The story is always the same, all of them have come from shelters and would have been euthanized if a rescue had not taken them and given them the life saving treatment to make them heart worm free again. They spend 8 weeks being crated and not being able to do anything but go outside briefly to go potty. They don't understand why they are being treated that way.
Here are our heart worm positive dogs we have had in rescue:

Otto- 2002
Rocky (he also came with a broken leg)

Aaron

Checkers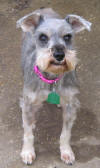 Lil' Bit-2007

Lachlan-2010
***************************************************************************
Here is some information about Heartworm disease - please remember to keep your dog on heartworm preventative!
Heartworms have three major stages in their life: the adult stage, the microfilaria and the infective larvae. Adult heartworms are full-grown heartworms living in the heart and pulmonary arteries of the infected animal. These cause most of the damage associated with heartworms by causing very small blood clots which damage the lining of the blood vessels in this region. When the blood pressure gets high enough, the heart can't work well and heart failure starts. This is a slow process, usually taking a year or more to produce signs.
Microfilaria must be picked up by a mosquito and activated in the mosquito in order to grow up. Once the mosquito has activated the microfilaria, it is referred to as an infective larvae. The infective larvae are carried by a mosquito from the dog it took blood from to the next dog it bites. They are injected into the skin and begin a long migration to the heart region, which takes about 5 months. During this time, they can be killed with little to no effect on the dog through the use of heartworm preventative medications. Heartworm medications can kill infective larvae up to about 50 days of age, which is why most are given once a month. Newer medications have a longer duration.
Heartworms cause dogs to die by causing small blood clots and embolisms (including dead worms from natural death or from heartworm treatment). The blood clots damage the lining of the large vessels leading to the lungs, eventually causing enough scarring to lead to stiffness in the blood vessels and to decrease the diameter of the interior of the vessel, eventually resulting in heart failure.
When heartworms die they become embolisms. If enough of the lung blood supply is obstructed by one of these clots, the dog dies. Heartworm treatment increases the short term possibility of death in an affected dog, but is literally the dog's only chance. The good news is the long term prognosis is excellent - most dogs with heartworm disease will return to nearly normal cardiovascular function within a few months after heartworm treatment.
Click on any of these topics for more details

Apply on Line | Foster Home Info. | General Rescue Info.
Available Dogs | On Line Store| Volunteer | Contact Us | Rescue Links |
Humane Education | Happy Endings
Schnauzer Gallery | Great Rescue Stories

OUR MAILING ADDRESS:  P.O. Box 5034 Laurel, MD 20725-5034
PHONE OR FAX:  (301) 776-7370
E-MAIL info@schnauzerrescue.net
**Schnauzer Rescue of the Mid-Atlantic, Inc. is a non-profit organization under Internal Revenue Code section 501 (c)(3)**
The official registration and financial information of Schnauzer Rescue of the Mid-Atlantic, Inc. may be obtained from the Maryland Department of State. Registration does not imply endorsement.


©2004